1
COLOQUE SEU ID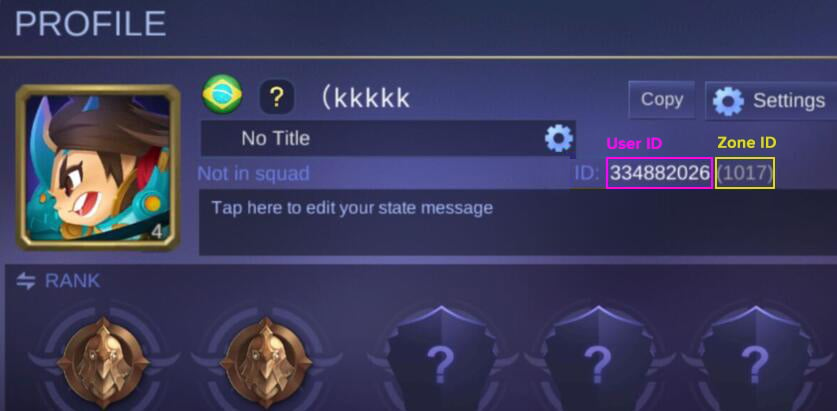 R$ 5,00

Diamond×78+8

R$ 10,00

Diamond×156+16

R$ 15,00

Diamond×234+23

R$ 40,00

Diamond×625+81

R$ 120,00

Diamond×1860+335

R$ 200,00

Diamond×3099+589

R$ 300,00

Diamond×4649+883

R$ 500,00

Diamond×7740+1548

R$ 33,00

Passagem do crepúsculo

R$ 6,40

Passe Semanal de Diamante
Caro usuário, recebemos o feedback da Moonton sobre o recente aumento do número de compras de diamantes através de "smile coins" em regiões fora da Brasil. Agradecemos muito o carinho de todos, porém seguindo os ajustes da Moonton em relação a canais de recarga de países de baixa taxa de câmbio, os usuários também podem continuar a comprar com Smile Coin fora da Brasil, mas a Moonton aumentará em 25%~30% o preço dos diamantes comprados por Smile Coin de usuários fora da Brasil. Agradecemos a compreensão e o apoio.
Dear User, we received feedback from Moonton on the recent increase in the number of diamond purchases through smile coins in regions outside of Brazil. We are very grateful for the affection of all. However, following Moonton's adjustments in relation to recharge channels in low exchange rate countries, users can continue to purchase with Smile Coin outside of Brazil, but Moonton will increase the price of diamonds purchased by Smile Coin from users outside of Brazil by 25%~30%. We appreciate your understanding and support.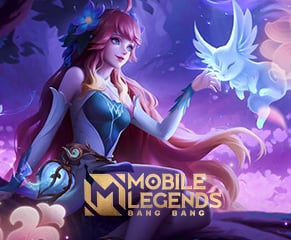 Informações do produto

Online Battle Arena (MOBA) desenvolvido e publicado pela Moonton. Mobile Legends está disponível para celulares com sistema Android e IOS. O jogo tem combates entre equipes compostas de cinco jogadores (5v5) que precisam destruir a base inimiga. Ele possui alguns modos de jogo como: Clássico, Ranqueado, Rixa, VS A.I., Personalizado, Sobrevivência, entre outros. Mobile Legends possui três mapas principais, que possuem diferentes cenários, objetivos e circunstâncias de vitórias. Um quarto mapa foi criado para o Modo Sobrevivência. Os mapas são nomeados como Terra do Amanhecer, Invasão ao Ocidente e um mapa até então sem nome para o Modo Rixa.
BAIXE JÁ O MOBILE LEGENDS: BANG BANG



Dear Player
Due to recent exchange rate fluctuations of the Brazilian currency, we have added country restrictions to the payment channels that use Brazilian currency as the payment currency on all platforms in order to maintain fairness and order in MLBB. From Mar 24, 2022, when using payment channels, non-Brazilian accounts will be required to pay an additional exchange rate difference, which will be actually paid by deducting diamonds. If the create role country of the account that you recharge for is not Brazil, and you use Brazilian currency as the payment currency, then the number of diamonds you receive will be deducted by 25%.
In order to ensure the recharge experience of Brazilian players, this rule is not applicable to accounts created in Brazil. That is: if the account you recharge for is created with a Brazilian IP, the diamonds you receive in the game will not be affected.
Create Role Country ≠ Brazil

Create Role Country = Brazil

R$5

59 Diamonds + 6

78 Diamonds + 8

R$10

117 Diamonds + 12

156 Diamonds + 16

R$15

176 Diamonds + 18

234 Diamonds + 23

R$40

469 Diamonds + 61

625 Diamonds + 81

R$120

1395 Diamonds + 252

1860 Diamonds + 335

R$200

2325 Diamonds + 442

3099 Diamonds + 589

R$300

3487 Diamonds + 663

4649 Diamonds + 883

R$500

5805 Diamonds + 1161

7740 Diamonds + 1548
Please do not use unofficial payment channels to recharge. Using unofficial payment channels is very likely to cause account being hacked, information leakage, and property loss. For the safety of your account property and personal information, please do not use unofficial payment channels to recharge. Please note that we will not be responsible for any account being hacked, information leakage, or property loss caused by this.
If you find any unofficial payment channels, please report it to us via customer service. Once verified, we will take severe punishment measures. Thank you for your continued support for SMILE.ONE and MLBB!
—— MLBB TEAM