₱ 95.00 ₱ 99.00

A Fine Day

₱ 238.00 ₱ 249.00

Let's Celebrate

₱ 950.00 ₱ 999.00

Boot Camp

₱ 47.00 ₱ 49.00

Crowning Glory

₱ 477.00 ₱ 499.00

Research & Development

₱ 950.00 ₱ 999.00

Fruits of Labor
2
PLEASE SELECT PAYMENT METHOD
Attention
1. The same IGGID can only redeem the code from the same package 10 times within 90 days.
2. Player must redeem all codes by 23:59:59 GMT-5 on 7/14/2023. Codes that expire cannot be redeemed.
3. New accounts less than 30 days old cannot use codes purchased from smileone.
4. The same package can only be redeemed 24 hours after the last exchange.
Buy Now
How to redeem
1. Download Lords Mobile
2. Log into the game and tap the Gear icon at the bottom-right corner. Then tap Account to check your IGGID.
3. Head to the redemption page:
https://lordsmobile.igg.com/event/redeem_code/
4. Enter your IGG ID and code, and tap Submit to receive your rewards.
5. Log into the game and check your rewards in your mailbox.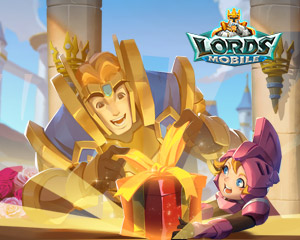 Product information

Feast your eyes on our 3D update! See the world turn from day to night!
The rally fever has spread from Royal Rallies and Feudal Rallies to Chalice Rallies!
Are you ready for a REAL fight?
The true Emperor has fallen. We need a real hero, a true Lord who can unite the Kingdoms. Recruit heroes from various backgrounds, from dwarves and mermaids to dark elves and steampunk robots, and assemble your army in this magical world! Fight and conquer to establish your empire!